Apropos the wet snow this Solstice morning, the cows are enjoying a little extra hay.
Buckets of rain bring buckets of summer+fall produce….
Just in from a foggy Monday morning harvest, and I am amazed at what's still coming out of the fields this first week of October!
Join our summer harvest box/CSA program!
Special shout-out for our Cowichan Valley, Cedar, and Nanaimo area neighbours!
The Shiro plum blossoms opening here after a morning rain shower, were  enough to stop me in my tracks…We are one week into 'official' spring, and that burst of life from the warming soil, from the lengthening days, couldn't be more meaningful at this time.
Tuesday and Wednesday this week brought a thick, blanket of snow to the farm. Our 'frost-free' hydrant was not functioning with the below freezing temperatures, so carrying water buckets for the livestock became a regular way to burn-off some of the winter blahs. Thankfully that was only a temporary test. Some sunny breaks today, and slight increases in the temperature felt good.
Walking, talking, and all that comes from life at a winter's pace…
A sunny! New Year's day farm walk looking up to Mt. Prevost from the southwest edge of our farm fields. We've enjoyed time with family and friends this fall and through the holiday season, now recharged a ready for 2020. 
As the first fall frost covers the farm this morning, and the Thanksgiving weekend draws near, it is time to recognize all the hands who have worked so hard this growing season at Green Fire Farm.
Christmas in JULY? Yup, Sungolds are ready!
First harvests of the long-awaited Sungold Tomatoes this week! 
Strawberries, peas, salad turnips, little gem lettuce, and the first taste of summer zucchini!
Sungolds, skipped a few steps….
There are so many competing pulls on our farm time from April and into the longest days of June….Here are those Sungolds again, growing their first flowers and budding first fruits! We've pruned and supported these, given them daily attention with watering and nutrient needs, and like you, are watching and waiting for that first taste.
Here are the Sungold tomatoes, step 2. I mentioned 'delayed gratification' in the last post, and thought it might be fun to track all the steps in that long wait from seeding to first tasting of that market favourite, Sungold tomatoes. Almost 3 weeks from seeding these in open flats, I separated the strongest and gave them room to grow in these 36 deep cell seedling trays.
Sungold sprouts and other signs of spring…
Welcome to spring! We are a few days into the 12 hours of daylight and counting….yesterday the first seedlings emerged in the greenhouse, and we are pretty excited to see that promise of summer abundance. Sungold tomatoes are a clear favourite in our household and on our market tables. Here they are, bursting forth, without even a true leaf yet to show.
Winter is here, or still here. We are two weeks under snow cover here at the farm, with another 'snowfall warning' issued this morning by Environment Canada for our east side of Vancouver Island. The cows are keeping warm under their shed by night, but at this point, I am hearing some moos that might be a little more than wondering about where their green grass has gone.
This week we will be celebrating the winter solstice here on the farm. This morning, the light from the east and tiny swath of blue were enough to remind me of that celebration. Heart-felt thanks to all friends and family of Green Fire Farm out there. Your support and encouragement bring light to the long days of summer, and to the long nights of winter!
Moo-vember / cows catching some rays today!
Here's our small herd of Angus cows enjoying the November sunlight–and remaining green grass!
Though we had a pretty hard frost overnight, the general weather pattern this fall has been mild and easy-to-manage. Carrots, kale, and other seasonal produce are all still looking good and tasting great. No doubt the next few weeks will be our last 2018 harvests, and we will shift to enjoying storage crops and fresh-frozen pork into the new year.
The peak summer harvest season this year will be remembered as an extreme one in terms of hot, dry growing conditions. Great for those memorable melons, Sungold tomatoes, of heat-loving crops generally; definitely challenging in terms of irrigation management and maintaining a safe water level in our dug-out pond.
Holy heat wave–June-bearing strawberries ripening in May!
OK, so it is May 31, but who can resist the excitement over the first strawberry harvest of the year??!
We are loading these pints for the Esquimalt Market this afternoon. Hope to see you there!
Yesterday late afternoon, I was reminded how quickly conditions can change this time of year…beautiful blue skies gave way to a line of clouds and a quick, white-out of a hailstorm. Seemed like rain showers at first, but as I was washing off the potting mix from my hands, the sounds on the windows and roof made it clear that what was falling was not water. We've been enjoying the 12 hours of daylight since the Equinox this week–'we' in this case meaning, I have made myself spokesperson for the chickens, piglets, horses, and emerging seedlings.
Mixing it up with Young Agrarians this weekend…
Come see why YA is so good at mixing business and pleasure….this year's Vancouver Island Winter Mixer promises another round of awesome resources and resourceful people, swapping stories and building skills in business, crop planning, soil health care and more! See you there.
In the news with the Cowichan Watershed Board…
Our neighbour, Nora Arajs, is one of those local heroes who communicates well and focuses her energy and skills on high priority, community engagement projects. Currently, she is with the Cowichan Watershed Board publishing outreach on 'Capture the rain' activities taking place in our valley.
Celebrating winter solstice – with our mouths full
Yesterday early morning we woke to a blanket of wet snow on the farm.
As we celebrate the light of winter, we are thankful and thoughtful leaning in to the long nights.
From all of us here at Green Fire Farm, Happy Winter Solstice and Seasons Greetings to all!
Winterizing the farm with cover crops
Here in the Cowichan Valley, the fall weather patterns have been much easier to work with this year as far as getting cover crops in the ground. The vintage seeder you see in the foreground was a big help for getting cover on the larger areas, and our fantastic farm intern did outstanding work manually seeding fall rye and clover between the rows.
Winterizing tasks on the farm
Several farmers market friends and customers these last few weeks have been asking, "what do you do when the markets are over?", so thought I would add a posting that gives a sense of the winterizing activities outside of harvest-wash-pack time….So, here's a really glamorous picture of our irrigation pump on the tailgate of the truck. I've just removed the pump from the pump house as one part *very important* part of winterizing the irrigation system.
What's on the menu for farm-to- table/ Esquimalt Market today?
We are harvesting, washing, and packing this morning for the 'Indoors' Esquimalt Farmers Market this afternoon.
This will be our first market with offerings of freshly cut and wrapped frozen pork this fall, and likely one of our last markets of the year with Sungold tomatoes and Totem strawberries.
Come see us and all the other great vendors, including our neighbor, Daniel/AKA Zed Squared Foods, who makes amazing Kim Chi!
Celebration of the equinox, golden beets trials, and more…
Very happy fall equinox to all! Seems this is the week the harvest menu has made an almost complete turn to the rich tastes and textures of the fall season. The golden beets pictured here are part of a multi year, collaborative research project funded by the Bauta Family Initiative on Canadian Seed Security, and led in this region by Farm Folk City Folk and the UBC Farm.
Today's super sweet harvest–end of summer heat?
Picked this ear of our first super sweet corn on the way back from the early morning field walk. Looks and tastes (my bite not pictured here) like this will be the peak of our 2017 corn harvest. We will have harnessed the summer heat with what we are bringing to market this afternoon. Temperatures are forecast to drop over the next few days, a possible first turn into the fall season. Our field tasks are already turning towards cover cropping and winterizing clean-ups…more on that in upcoming posts.
Very last minute before the Sunday farmers market in Cedar, I walked (quickly) out to the fields to harvest some of these 'greenburst' sunflowers. Given all the excitement about tomorrow's solar eclipse, I wondered–what would it look like to see a time lapse of the sunflowers during this cosmic coincidence? That thought was quickly dropped with the reality check that I have no time lapse photographic capability, and gosh-not much time before the market to feed the pigs, get the irrigation cycling, and finish up the market truck packing.
The little large blacks as pictured back in a previous posting in May, are more than a little larger now.
Here they are in July, finishing up their Sunday brunch…Though not in so many words, or grunts, they have let us know they are enjoying our oversized cucumbers and zucchini, their fresh rotation field, and today's summer rainfall.
All that to say, we are blessed with happy, healthy pigs and enjoy our time on the farm with them!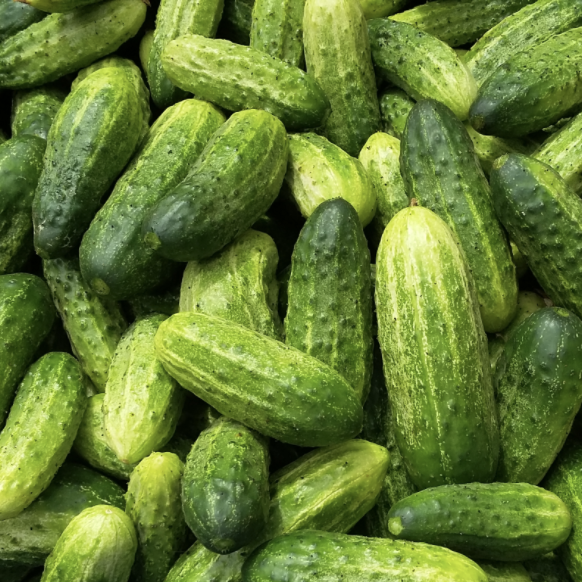 Here they come…ready for your brine jars and best vinegars. The 2017 pickling cucumber harvest at Green Fire Farm is underway! Come see us at the Esquimalt Market on Thursdays or Cedar Market on Sundays to select your favourite sizes and quantity, or pre-order 20 pounds with an email.
Almost a week into summer, and we are moving into a sunny stretch with prime growing conditions for annual vegetables crops. With the irrigation system working at full capacity, we are breathing a few sighs of relief and working steadily to try and keep pace. These 'little gem' mini romaines are the pride of our lettuce crops. They are sizing up for harvest now, and we hope to bring these tasty and crisp delights to your salad bowls straight through those hot summer days of July and August.
the first bite of our 2017 strawberries… we've been waiting, watching, and weeding these delights, and now they are here!
OK, last post highlighted a sunny afternoon, but the slug I found on my boot yesterday morning tells a more accurate tale of how little sun we've seen this spring. I've been practicing that little mind trick of looking for a 'sunnier side' to whatever the weather and other spring start-up challenges might bring, so in this case–at least the slug was not IN the boot.
It was sunny and warm today for the little 'Large Black' piglets' first day exploring the grass and clover patches inside their electric fence training pen…
Join us at the Esquimalt Farmers Market-April 27!
Welcome Berkshire-Blacks!
We are enjoying the happy grunts of five, healthy Berkshire-Black piglets on the farm! Soon as they are out of the barn, most are snout-down rooting up some tall fescue. Spot here, seems just as curious about what I am up to as I am about whether she will be easily trained to the electric fencing …
Completed bottom heat bench 2.0
Two hours later, the second bottom-heat greenhouse bench was completely covered in zucchini and tomatoes to be…..
Hot bench project for spring equinox
Though we are officially celebrating spring equinox this week, night time temperatures on the farm are continuing to dip down to 0C. Heat-loving annual vegetable starts are crowding the bottom-heated bench space in the propagation greenhouse. With the push officially on for sowing more and up-potting transplants that would move to the field in April and early May, I thought it was time to add a second hot bench.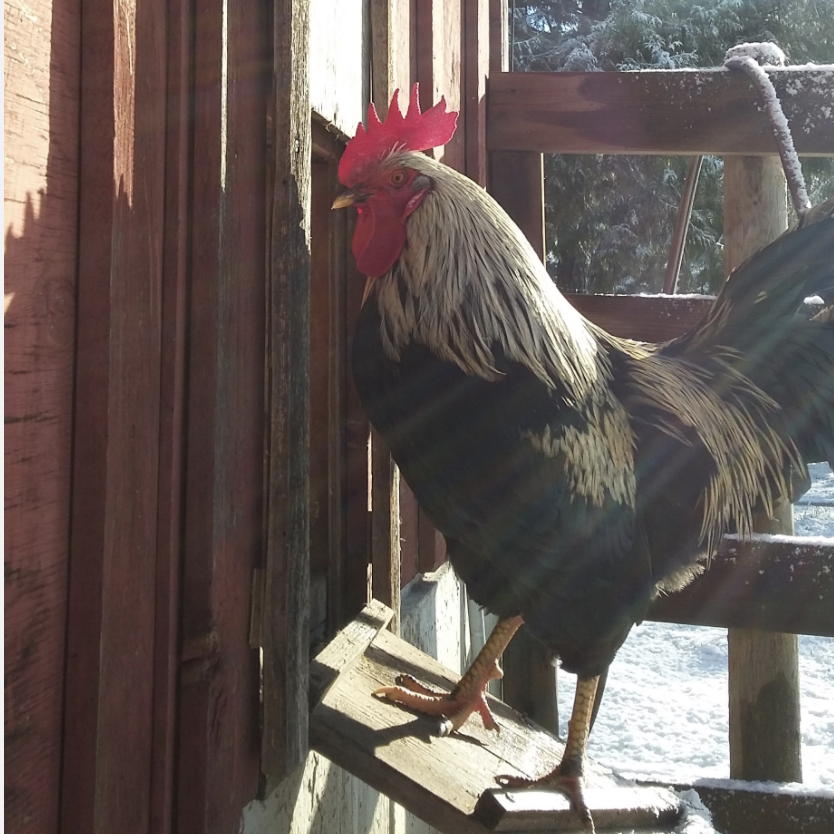 Yesterday and overnight, we experienced another dusting of snow here at the farm.On the morning of March 4th, the sun was shining, blue skies all around, and the ground and tree tips were just covered in snow. As I opened the barn-door hatch for the chickens and heard the rooster proclaim the cock-a-doodle-day, I saw something a little too much like a ground hog day in reverse. Mr. Roo marched out, took one look at the snow, and headed back indoors.
After six weeks of mostly snow covered ground, we are beginning to see a few signs of what was going on out of sight. As the remaining patches of snow melted away from our northwest field, we saw hundreds of tunnels, some connected and some not. Once you could see that there was one, more than one, and many of these tunnels, you could step back and see something like a hive or superhighway pattern across the surface in the thick overwintered pasture grasses. This hint of the many active lives making homes and tunneling into the soil got me pretty excited.
Snowy December around these parts, and with all that fun crunching snow and following snow tracks, we saw our first elk of the season at the northwest field edge yesterday afternoon. He was as elusive of our camera as any magical creature would be- we returned with only shadowy images a little too similar to a Loch Ness or Ogopgo sighting to share here…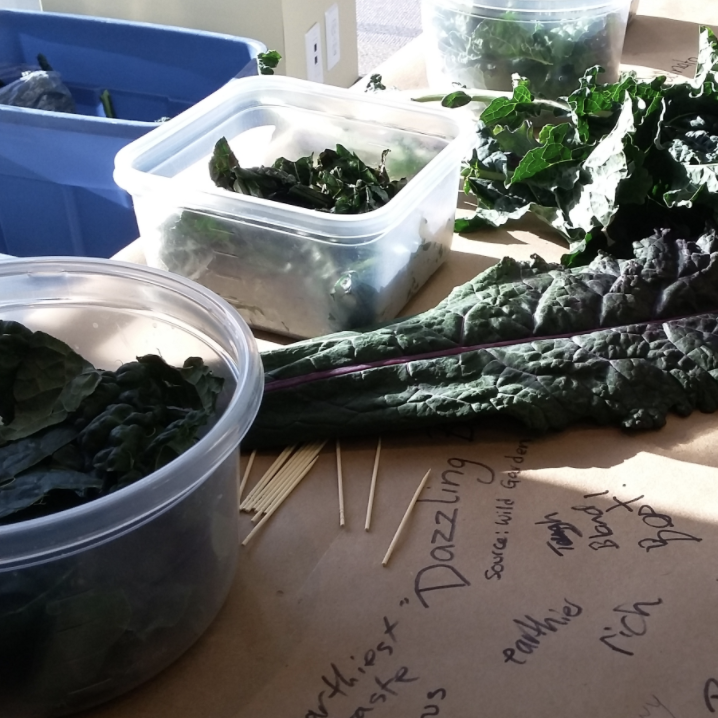 2016 BC Seed Trials–getting down to the seedy details
This 'Dazzling Blue' lacinato type kale was one of the favourites in the kale taste taste and in the 2016 BC seed trials. Selected cultivars of kale, beets, and spinach were grown on certified organic, ecological, and conventional farms around the province in an effort to identify top performing varieties for our growing region, and to investigate the potential for high quality bulk seed production driven by BC seed producers.
Rolling along with the seasonal shift
We are just about four weeks into shorter, wetter days, and I am finding any late afternoon clearing,any swaths of blue sky and orange trees, oh, so welcome. Despite all the sog, we are thankfully abundant in sweet carrots, borscht-worthy beets, comforting winter squash, tasty kales, collards, and garlic to keep it all simmering in the pot. Our happy pigs will now be providing feasts and goodness to many Island families, including our own.